Original Story| Bleacher Report
April 14,2016
By Kevin Ding
SAN ANTONIO — "The best record of all time," Draymond Green called it.
Stephen Curry put it this way: "Something no team has done in history."
Seventy-three victories in a single NBA regular season, the historic plateau Golden State Warriors leaders Green and Curry have prioritized despite even Steve Kerr's desire for them to rest for the playoffs, hung in the balance at halftime.
Then the Warriors took the second half Sunday from their only peer this season, the San Antonio Spurs. Golden State is now expected to get No. 73 Wednesday night in the finale against the visiting Memphis Grizzlies.
Because the Warriors are so great, with so many wonderful layers of connective tissue within their team, no one views them as just a one-two punch.
Curry has a unique relationship with Andre Iguodala, his golf buddy and the one who ribbed him pregame Sunday about Jordan Spieth's Masters collapse. Klay Thompson is obviously the other Splash Brother.
when you find out Spieth put two in the water at #TheMasterspic.twitter.com/XtIxU0BApo

— Julie Phayer (@juliephayer) April 10, 2016
But nobody can overlook the fact the Warriors are driven, same as just about every truly great basketball team in history, by two transcendent players and what they give their teammates.
Yes, Green qualifies and must be considered for a top-five slot on our NBA MVP ballots even if he's not the best player on his team.
Green is the heart and voice of the Warriors, and he was again in the first half Sunday.
"His toughness and grit kept us afloat," Warriors coach Steve Kerr said.
It was 35-35 at halftime, with the slow-paced Spurs making it look as if they really were playing chess to the Warriors' checkers (before the game, Kerr joked Gregg Popovich tends to do this). When the Warriors need heart and voice and toughness and grit, though, Green delivers.
He asserts himself and finds a way. He doesn't recede to the background or let a moment pass.
It's why Spurs legend and Navy man David Robinson camped out in the hallway after the game Sunday, waiting to congratulate Green. It's why the game even meant as much as it did—because Green pushed the Warriors to a 100-99 victory Saturday in Memphis with Curry's shooting off (including down the stretch, when Green tipped in Curry's miss to take the lead).
Hall of Famer @DavidtheAdmiral congratulates @Money23Greenfollowing the @Warriors 72nd victory! #ThisIsWhyWePlaypic.twitter.com/IQKyg4GEzJ

— NBA (@NBA) April 11, 2016
All things considered, Curry should have been happy to be tied at halftime Sunday against a Spurs team that was 39-0 at home this season.
Shortly before the third quarter was to begin, Green finally came out of the Warriors locker room to get a few shots up. Curry had already been out there shooting for some time.
Green went to a spot near the top of the key, just to the left of Curry, and a loose ball rolled out and came to a stop directly between them. They both reflexively reached for it.
And just as soon as they did, they both pulled back.
It was more than an awkward instant between teammates.
It was sincere respect. Zero question about each wanting the other one to have it.
In that moment, they were two friends fighting over the check after dinner, both knowing the one who comes away poorer gets to be the real winner.
Curry won this one because he leaned further away and went so quickly about getting another ball. Green, frozen in mid-crouch upon realizing Curry had reached for that ball on the ground, gave a little grin as he looked up at his fellow captain.
Curry refused to even look back. So Green reluctantly picked the ball up as his own.
The Curry-Green leadership partnership is at the crux of the Warriors' historic run—more than the roster depth, confidence from being defending champions or even Curry's dominant individual play.
Curry was on fire after halftime: 26 points in 18 minutes, just one turnover. Kerr said, "Steph really got us rolling in the second half. That's why he is who he is."
But if you looked closely, you saw just as much magic in the moments between Curry and Green.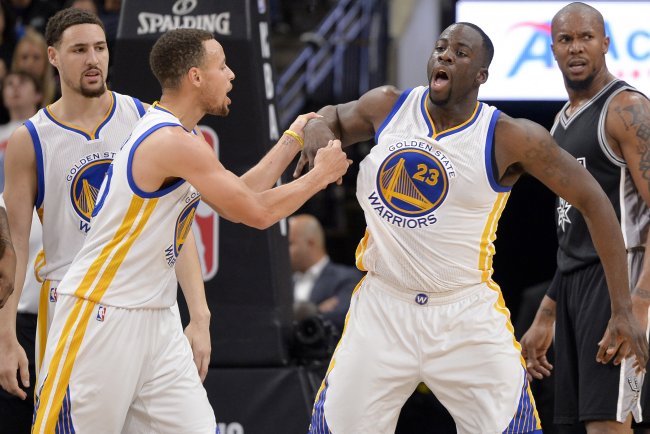 Darren Abate/Associated Press
They sat hip-to-hip on the bench at the start of the fourth quarter, taking just as much responsibility for the team doing well without them as with them.
After Harrison Barnes rose up for a three-pointer and 68-65 Warriors lead—before Popovich could even call the timeout—Curry and Green stood in unison, turned to face each other, slapped hands and nodded at each other in approval. Then they ambled out to congratulate their guys.
That's the bond that means so much to this group.
It's not unlike having two parents who know they are different…but rather than let those differences trigger discord and produce bitterness, they understand the family balance and greater good that comes from them.
So midway through the fourth quarter, Curry throws a high-risk inbounds pass from near the basket way out to half court, where clearly he expects Green to break free from Kawhi Leonard, avoid touching the midcourt stripe and slingshot the ball back. Green does, and Curry hits an impossible shot over both Tony Parker and Leonard—and the last half of the fourth quarter suddenly feels like just about every Warriors game this season: exciting yet controlled.
About every Warriors game this season is Green doing the dirty work, Curry getting the glory and everyone truly happy.
"Those guys, they are amazing pretty much every night," Kerr said afterward. "But particularly tonight."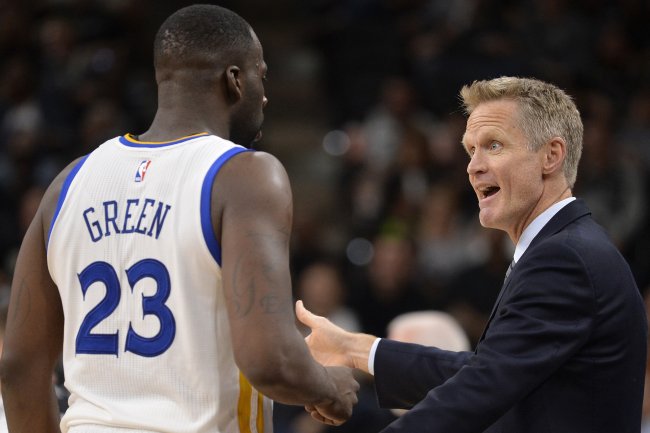 Darren Abate/Associated Press
The balance of their powers is how 73 victories is now possible despite Curry not being the aggressive force that Michael Jordan was and Green not being the athletic marvel that Scottie Pippen was for the 72-10 Chicago Bulls in 1995-96.
As many aspirational quotes as Green has given about winning 73, few understand that between the two, Curry is the goal-oriented one. He wanted more than Green to break the 1971-72 Los Angeles Lakers' 33-game win streak (the Warriors made it to 28).
Curry knows he's not banged up or even weary to the point of now jeopardizing the NBA championship. He has been fantastic against the fatigue of back-to-back sets such as this one, scoring 30.4 points on 51.7 percent shooting on the second nights. (How consistently have the Warriors managed his activity? Through Sunday, Curry had averaged 34:42 with no days' rest, 34:36 with one day's rest and 34:36 with two days' rest.)
He wants to do something special today…and tomorrow.
It's the tone he and Green set for their teammates. It has brought them to the brink of legend.
"I don't think I put myself in a position to be a step slower come the playoffs, so why not go out and take advantage of an opportunity that may never come again?" Curry said. "That's what I think about every day. We play this game at a high level, year after year after year, and we're on a team that's chasing history.
"That's a special opportunity that you want to give everything you have to."
When it was over, Curry wasn't going to defer and give this ball to Green or anyone else.
Clutching the game ball in his arm after the horn, Curry still managed to hold a long embrace with Green. Curry then carried the ball through three postgame on-court interviews and all the way back for safekeeping in his locker before packing up for the trip home.
No. 72 was that important.
Just don't be shocked if Curry gives No. 73 to Green.
Kevin Ding is an NBA senior writer for Bleacher Report. Follow him on Twitter, @KevinDing.