Original Story| Bleacher Report
April 22, 2016
By Kevin Ding
Perhaps we'll look back at Thursday's loss in Game 3 of the first round against the Houston Rockets as the Golden State Warriors' lone playoff blemish.
After all, the Warriors posted the best regular-season record in history and lost Thursday by just one point while playing without a sidelined Stephen Curry. So, the Warriors matching the 2000-01 Los Angeles Lakers' NBA-best 15-1 playoff record would not be a shocker.
The Warriors actually losing this series to the Rockets? Or falling in the next round, likely against the Los Angeles Clippers? That would be far more surprising.
When you look at the NBA playoffs from the perspective of which teams have the most to lose, what is truly at risk right now becomes clear.
Every one of these five contenders that doesn't win the championship will have some regrouping to do. But if any bow out in the early going, some will be left with a lot more explaining to do than others.
Who has the most to lose?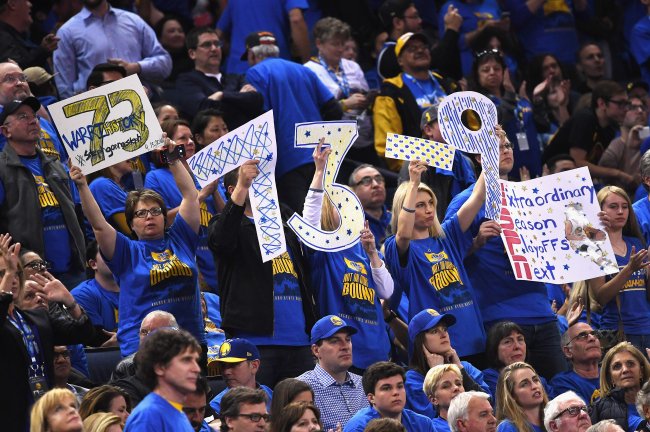 Thearon W. Henderson/Getty Images
1. Warriors
Just imagine the gloating tweets that would be popping from the 1995-96 Chicago Bulls if the Warriors couldn't even get out of the second round.
Something such as "Regular-season lather. Second-round rinse. No repeat!" from Phil Jackson. Or "Sorry, @SteveKerr!" from Scottie Pippen. Definitely "Don't mean a thing without the ring!" from Ron Harper.
All the politically correct congeniality the former Bulls showed after Golden State's 73rd regular-season victory would be overturned by honest not-so-goodness. And you just know all the old-time NBA players who've scoffed at the Warriors' small ball and lack of muscle would hashtag like crazy: #toldyouso.
Indeed, no team has as much to lose as the Warriors, because this team has positioned itself to have more than any previous team ever achieved.
The Warriors have a way of going into pressure situations and making the most of them, though. It'd be quite a switch for them to struggle with the great expectations now.
After finally winning No. 73, the Warriors said they looked forward to the playoffs because other teams—unaccustomed to suffering major ramifications for losing—would now get a taste of the intense atmospheric pressure the Warriors weathered for months.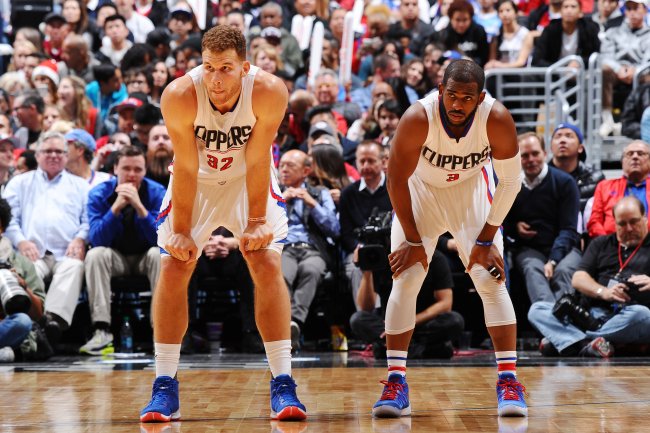 Juan Ocampo/Getty Images
2. Clippers
It's not so much that losing in the next round to the Warriors would be unexpected in any way. It's how demoralizing it would be for the Clippers franchise—after all the hope driven up by Steve Ballmer's fist pumps upon buying the star-studded team—again to show no progress, to still be stuck, unable to get past the second round.
And that staleness is about to come with an expiration date.
Chris Paul and Blake Griffin can opt out of their contracts after next season. That means the Clippers, if they fail to break out this season, have no choice but to contemplate breaking up this group.
Doc Rivers has been adamantly opposed to moving Paul, 30, next month. Yet the possibility of losing Paul or Griffin—or both!—for nothing in return in 2017 mandates that the Clippers evaluate what they can get for them in a trade in 2016.
The vibe around the team has remained lackluster this season despite that epic first-round victory over San Antonio a year ago, DeAndreJordan's heralded return and another MVP-contending season from Paul.
The Clippers have looked fine against an outmatched Portland team so far, but even these results serve as a reminder of how Paul has been unable to carry teams in the playoffs: The Clippers have schemed well to use traps and size to nullify Damian Lillard…just what opponents have been able to do to limit Paul.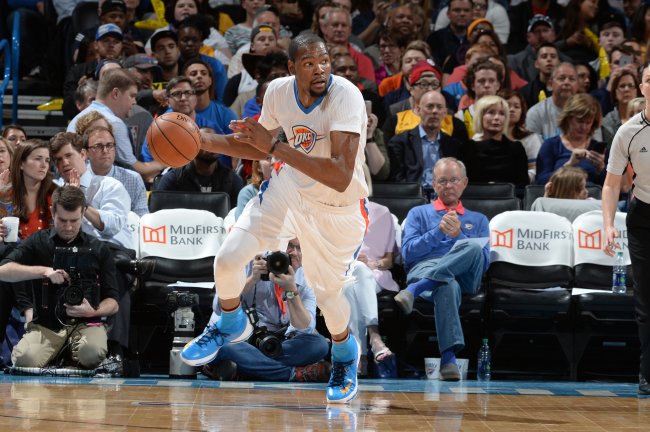 Andrew D. Bernstein/Getty Images
3. Thunder
You might think Oklahoma City should be at the top of this list considering Kevin Durant's free agency at season's end. If the Thunder wipe out against Dallas or lose in the next round against San Antonio, it certainly could drive Durant out of town. Major ramifications, for sure.
But the Mavericks are so depleted that it seems impossible for them to oust the Thunder. And unless that happens, there's no humiliation awaiting Durant here.
As frustrating as it would be for the Durant-Russell Westbrookpartnership to remain without a title, most people are planning on the Thunder losing to the Spurs, who would have home-court advantage in the second round.
Gregg Popovich, with a team that tied the seventh-best regular-season record and was all but unbeatable at home, schooling Billy Donovan in his first NBA season? Naturally.
The plain truth is that Durant's best economic move remains to sign a one-year deal to stay in Oklahoma City, making him eligible for a bigger max contract in 2017 as a 10-year vet. And that would put Westbrook's 2017 free agency in lockstep with Durant's.
While that would create a similar scenario to the Clippers' contractual challenge with Paul and Griffin, the Thunder still have those viable injury excuses for their previous failures—and at least OKC has been in the Western Conference Finals three of the past five years. A second-round exit now wouldn't mean Durant can't come back, try again and even win that title with the Thunder next season.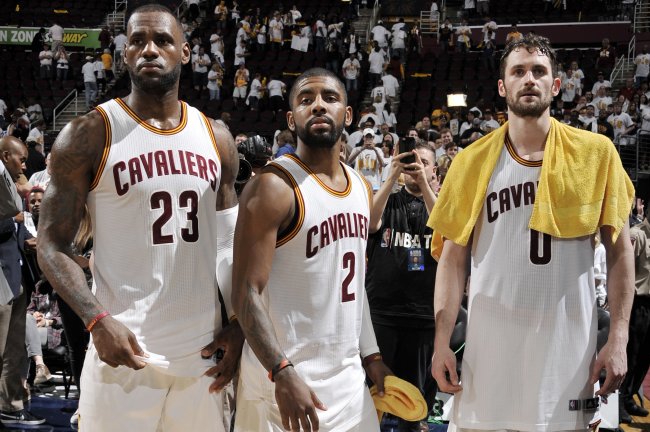 David Liam Kyle/Getty Images
4. Cavaliers
LeBron James' growing interest in film has him indulging drama with this Cleveland team. Yet don't believe the hype that James might run away from home again in free agency if he's dissatisfied by the Cavs' growth now.
He's invested in this. He's going to stay. And as long as he's there, things are pretty good in Cleveland.
To be honest, the Detroit Pistons might not have a shot against theCavs this round, but the Atlanta Hawks do in the next. Paul Millsap and the Hawks could stymie James with their agile pick-and-roll trapping, and Atlanta proved last season how capable it is of sustained scoring.
Here's an even more honest statement: A second-round exit would not be the worst thing in the world for Cleveland.
A third-round exit at the hands of James' former Miami team would be the max in humbling, and that possibility is out there. Even if the Cavaliers persevered through it all, they would almost certainly just wind up underdogs in the NBA Finals anyway.
So, if the Cavs were ousted in the early rounds, and especially if James then skips the Olympics, LeBron would get meaningful rest time he hasn't even been able to sniff with five consecutive runs to the NBA Finals. Consider the wear from that tear: James has already played more playoff games in his career than Michael Jordan, 180-179—in two fewer seasons.
Furthermore, a second-round exit this season would be startling enough to get the complete attention of James' teammates as motivation for next season. That didn't happen last offseason given that Cleveland's runner-up finish despite serious injuries was deemed quite respectable.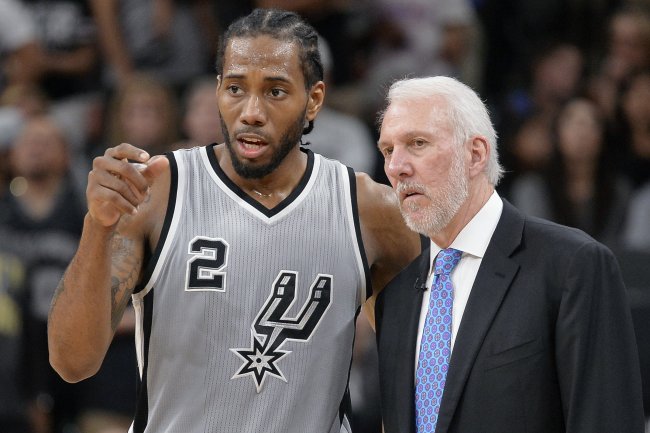 Darren Abate/Associated Press
5. Spurs
If San Antonio doesn't make it past the second round, it would be disappointing but not devastating. There would be no stain on Popovich's legacy. Kawhi Leonard wouldn't go squawking about needing to run a new offense through him. No one would pin all the blame on newcomer LaMarcus Aldridge.
There's a broader context at work with the Spurs.
They have already rolled back their odometer to drive further than they rightfully should have.
Everything that happens in the Kawhi era is gravy. And because he's going to be around for the foreseeable future, the Spurs machine will continue to power on the way it always does.
Of course, the Spurs expect to follow up the best regular season in franchise history with something even sweeter now. Of course, they at least want to go toe-to-toe with the Warriors in the West finals.
But there would be no dishonor in losing to Durant, Westbrook andSerge Ibaka in Round 2. Oklahoma City has won 72 percent of its games with those three healthy since making the 2012 NBA Finals.
And though the Thunder may not improve that number against the Spurs, if San Antonio does fall, there won't be many, if any, who find fault with an early exit—unlike for those other four contenders.